With all the holiday hoopla I haven't had a chance to feature a football party I styled for a little six year old boy this past month. Living in Auburn with a #1 football team this season has been great fun, and it's no wonder this little Tiger fan wanted to celebrate his special day "War Eagle" style. Melissa, his mom, was wonderful to work with. I think she's got it all down pat -- with 4 boys ranging in age from 3 to 9, this lady has had lots of experience with birthday parties!
We made a fun dessert table and lots of
football themed printables
to go with it.... cupcake toppers, pennant banners, water bottle labels, favor tags and more. And yes,
just in case your wondering
, the printables are in my
Etsy shop
now and best of all, you can CHOOSE YOUR OWN TEAM COLORS! Believe it or not, I made this entire table for less than $100!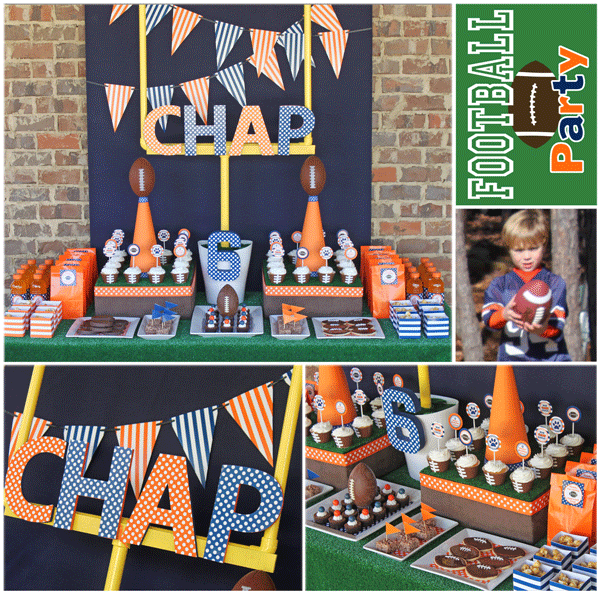 The dessert table was styled with gameday fun in mind -- a little astroturf for a tablecloth, a few pennants, team colors and of course, the field goal post. Using PVC pipe from the plumbing section of the hardware store, I made the goal post to display the birthday boy's name. After creating the post from pvc, I put a little hot glue on all the fittings to make sure they would stay in place, and then I painted the whole thing bright yellow with spray paint. I used a Dollar Tree trash can in white with some plaster of paris to secure the goal post in place. After the plaster dried, I cut a small piece of the astroturf to cover the plaster.
The letters for Chap's name were purchased at Hobby Lobby. They were the chipboard capital letters sold in the scrapbook section. I then printed out 4 sheets of the polka dot papers that come with the Team Colors Football printable collection, and traced a letter onto each sheet, alternating colors. Next I cut the letters out and used some Elmer's glue to adhere the paper to the letter. The number 6 also came from Hobby Lobby but was found in the paper machie box section.
I used megaphones and foam footballs, also from the Dollar Tree, to create the cupcake stand centerpieces. I covered them in 12"x12" scrapbook paper (which didn't completely cover the back, but you could piece it together to cover or you could just leave the back unfinished) and then used blue and white polka dot ribbon (Hobby Lobby) to finish off each end of the megaphone.
The cupcake stands were made from boxes covered in a football-leather looking fabric that I purchased at Hancock Fabrics. I then cut a piece of astroturf (Home Depot) to fit the top and added an orange and white polka dot ribbon (Hobby Lobby) for some color.
And the backdrop was made by covering a 4'x4' board with a $4.00 navy blue sheet from Walmart. Easy peasy and inexpensive, too!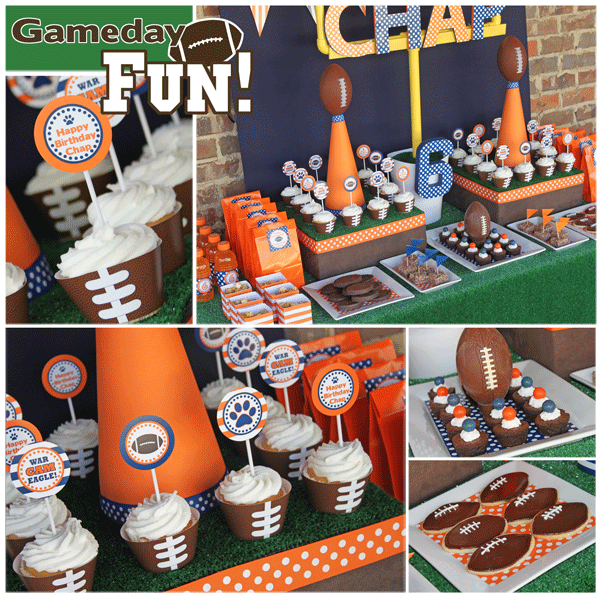 The rest of the party table features more of the
Team Colors Football printables
.... cupcake toppers in 4 designs (2 of which you can add your own text), football-look cupcake wraps, 2 colors of toothpick pennant flags, larger striped pennant flags in 2 colors, polka dot water bottle wraps with personalization of the birthday child's age, favor tags with name personalization, and I also used the striped papers from the collection to cover plain white snack boxes that I purchased from the Dollar Tree (wedding section).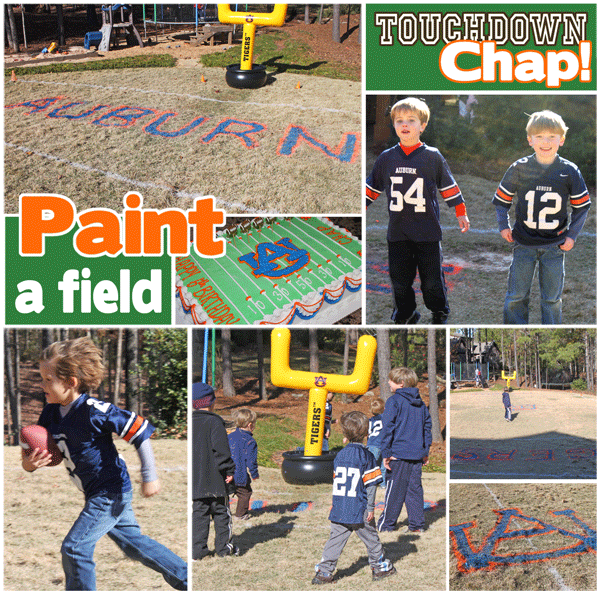 The boys had great fun wearing their team jerseys and especially playing football on the "real football field" that Chap's dad painted while they were at school that day. My absolute favorite part of the day was seeing Chap's face when he came home from school and saw his backyard turned into an Auburn gameday field. How fun is that??
The
Team Colors Collection
is in the shop now and features your choice of two team colors. And great news -- there are lots more items in the collection not featured here like food label cards, signs, napkin wraps, and football cut outs. Use the printables for college teams, pro teams, or even your child's own football team. It's great for birthday parties, but could also be used for end-of-season pee wee football parties or even tailgates. And there's a listing for an
invitation and thank you note
, too.
I hope Chap's party brings some inspiration for your next football fun day! And if you'd like to see more photos from the party, I've posted lots on
FACEBOOK HERE.