I'm always so torn this time of year. Back to school time makes me both a little happy and a little sad. Sad that the un-scheduled days of summer with no homework and after school activities will soon come to an end and happy that once again mama can work in a quiet house without 3 little ones fighting over who ate the last of the Chocolate Cheerios. Ah, the joys of childhood and siblings!
And with back to school comes the fun of meeting new teachers and classmates. My kids have always loved taking a little something special in for their teachers on the first day of school. I think it makes them feel special, too, when they can walk in and hand their teacher a sweet treat.
With that in mind, I've worked up a cute FREEBIE BACK TO SCHOOL printables set

and a tutorial for some chocolate covered Oreo Apple Pops that I hope the teachers out there will love. The printables include a monogrammed note card set for teachers, teacher gift tags and lots more so be sure to grab your download and be ready for all those teacher gifts we like to give throughout the year.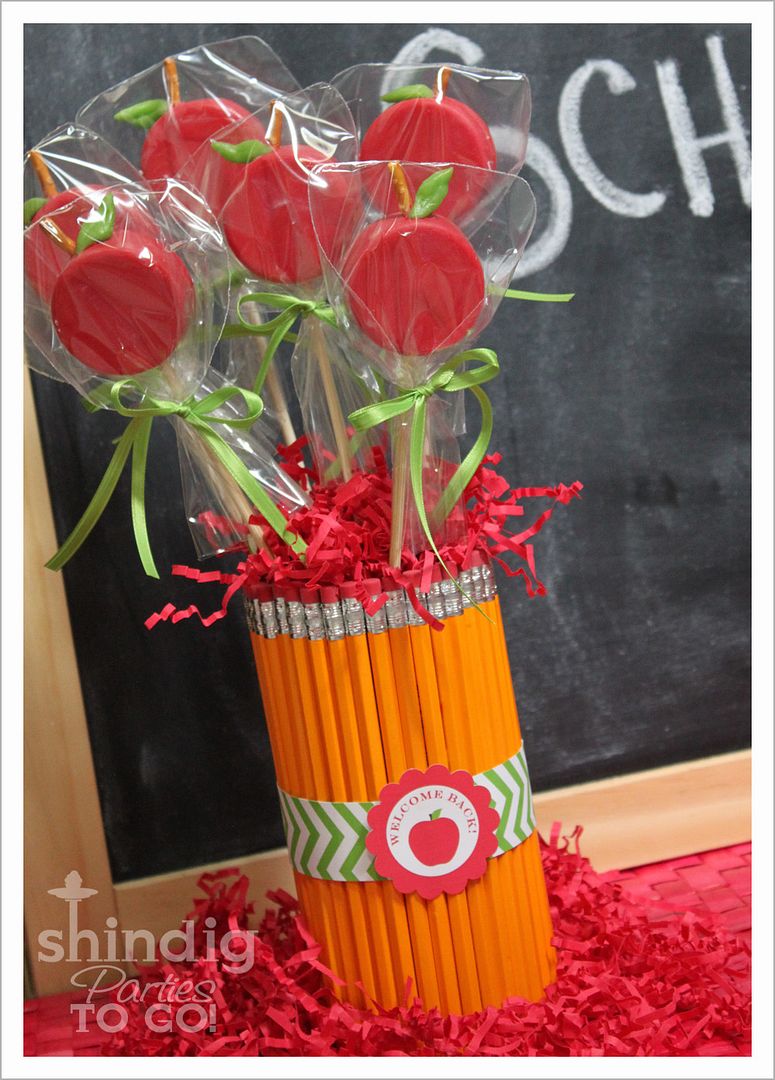 These are much less difficult to make than they look with the help of Chocolate Covered Oreo Molds from Spinning Leaf.
I must say these are the easiest and most amazing tools for making a professional looking cookie in minutes. And at only $6.00, I recommend buying 2 molds so that you can make a dozen treats super quick.
CHOCOLATE COVERED OREO APPLE POPS
- Wilton Shaped Party cellophane bags (I bought mine at Walmart)
- Wooden skewers (find in grocery store, Dollar Tree, etc.)
- Shredded red paper crinkles
- Pencil vase or another simple vase to hold your apple pops
Step 1:
Melt your chocolate in a double boiler following the instructions on the candy melts bag. Spoon chocolate into your cookie mold, filling about 1/3 of the mold cavity. Place your Double Stuff Oreo into the mold and press into the chocolate, making sure the Oreo is slightly lower than the top of the mold and level.
Step 2:
Spoon more melted chocolate over your Oreo to cover. Tap your mold onto the countertop to make sure the chocolate slides down the sides of the Oreo and to remove any air bubbles. Repeat Steps 1 and 2 until your molds are filled.
Step 3:
Using the back side of a knife, scrape the excess melted chocolate over the mold to create an even surface of chocolate over your Oreo cookie.
Step 4:
Repeat step 3 over again until your molds are level and ready to place into the refrigerator for 10-15 to set.
Step 5:
Remove molds from refrigerator and slightly bend and tap the Oreos gently out of the mold.
Step 6:
Using your knife, cut off the excess chocolate around the base of your cookie.
Step 7:
Take the pointed end of your wooden skewer and gently twist it into the side of your chocolate covered Oreo until you've made a hold large enough for your skewer to fit into the cookie. Once the hole is large enough, dab a little melted chocolate onto the end of your skewer and insert it into your cookie.
Step 8:
Make another hole with another wooden skewer on the opposite side of your cookie for your apple "stem."
Step 9:
Place a small piece of pretzel stick in the hole with a little melted chocolate on it as well. This will help the pretzel stay in place.
Step 2:
Mold the cut candy into a leaf shape using your fingers.
Step 3:
Using the back side of the knife, make a crease down the center of your leaf for "veining"
Step 4:
Put a dab of melted chocolate on the bottom point of your leaf and place it on top of your chocolate covered Oreo apple.
Step 5:
Press and hold the leaf until the chocolate sets.
Step 6:
Insert your apple pop in your cellophane party bag.

Step 7:
Add a small piece of green or red ribbon to the base of your apple pop and tie in a bow.
Step 8:
Insert your apple pop into a vase filled with styrofoam or green florist foam.
Step 9:
Add red shredded paper crinkles and you're done!
I just love it and I hope those wonderful teachers out there will, too! If you'd like to make a few extras, the apple pops would make a great prize for your child's classmates as well. Just wrap a pop individually in cellophane and use a lollipop stick instead of a wooden skewer for the stick (it's safer with no sharp points).
Be sure to check out tomorrow's tutorial for the Teacher Pencil Vase. I hope you enjoyed the tutorial and Freebie Back to School printables download! If you like the printables, be sure to let me know by becoming a FAN of Amanda's Parties To Go on

FACEBOOK

by clicking the "Like" button. Thanks everyone!