I'm sharing a simply "to-die-for" set of party tables today from the creative mind of Kara Allen whom you might know from the amazing party blog, Kara Party Ideas. Kara's blog is one of the best inspirational sources when planning a children's birthday party. She features one amazing party after another, and you are guaranteed to fall in love with parties after just one visit!
So not only is Kara a talented blogger, but she's quite a party stylist as well. Earlier this month, her gumball party was featured on HGTV, and I couldn't wait to share it with you all as well.
In describing the origin of her gumball party idea Kara says, "HGTV contacted me in December to see if I would be willing to submit a party for an online kids party idea feature. So fun!
I chose the gumball theme because I wanted the party to be bright and colorful..... something that any child would adore.
I wanted to go with a vintage gumball fee. While planning the party I pictured a gumball machine in a old fashioned soda shoppe.... the ideas then kept coming from there."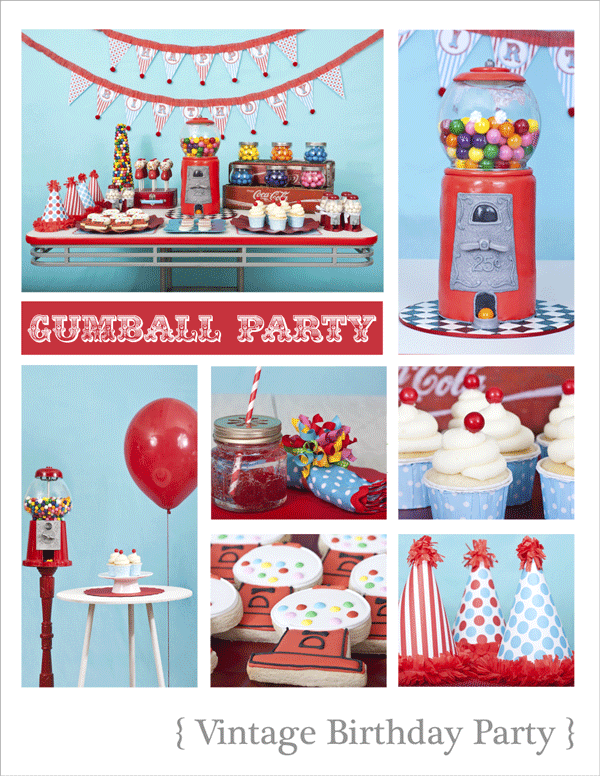 Isn't this adorable? Here are some of the details of Kara's finds and DIY projects:
GUMBALL CAKE:
Yes! That amazing "centerpiece" is actually a fondant cake by
Dippidee
.
BANNER:
Kara took a banner from
Gwen Wasson Designs
and added a crepe paper ruffle (she gathered a little with a sewing machine) to the top and some pom poms to each of the triangular pennants to make it a little more festive.
GUMBALL TOPIARY: Kara hot glued some small gumballs to a styrofoam cone which added some height to the table to balance the tall gumball cake.
GUMBALL MACHINE: She found this in her local classified online ads along with the table and the wooden coke boxes, too, that she used for vintage props.
NAPKIN RINGS: Adorable curly ribbon napkin rings from Hobby Lobby also add a festive touch.
GUMBALL COOKIES:
These adorable cookies are by
The Cookie Jar
and can be delivered straight to your door. How wonderful!
CUPCAKE LINERS:
Sweet blue and white polka dot liners from
Hey Yo Yo
fit right in with the vintage party feel.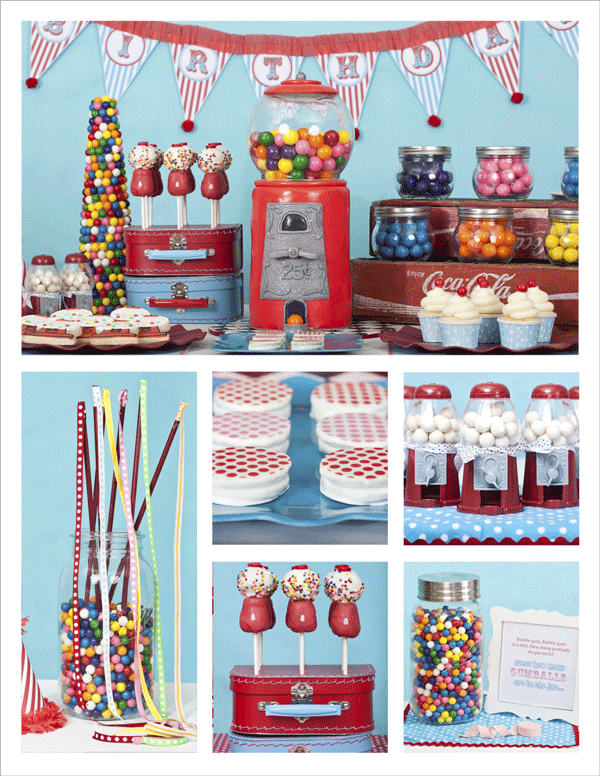 GUMBALL CAKE POPS: These cute little pops were made by Kara -- see her tutorial here.
SMALL SUITCASES: Kara purchased these from Amazon.com and drilled holes in the red one to display her cake pops.
GUMBALL GAME: Every party must have games, and Kara made it simple and sweet..... Guess how many gumballs was the perfect party activity.
WANDS: Kara also made these ribbon wands by attaching various coordinating ribbons to painted wooden dowels and propping them up in a large mason jar (Hobby Lobby) filled with gumballs.
CHOCOLATE COVERED OREOS:
These delicious treats by
Sweeties by Kim
are wonderful for all kinds of party themes as they can be customized to match your own party colors.
LARGE GUMBALLS:
Not knowing exactly where Kara got her large size gumballs, I did a search and found them in many colors at
Party City.
MINI GUMBALL MACHINE FAVORS:
Again, not knowing Kara's source, I found these two places to order mini gumball machine favors:
Beau Coup
and
Windy City Novelty
.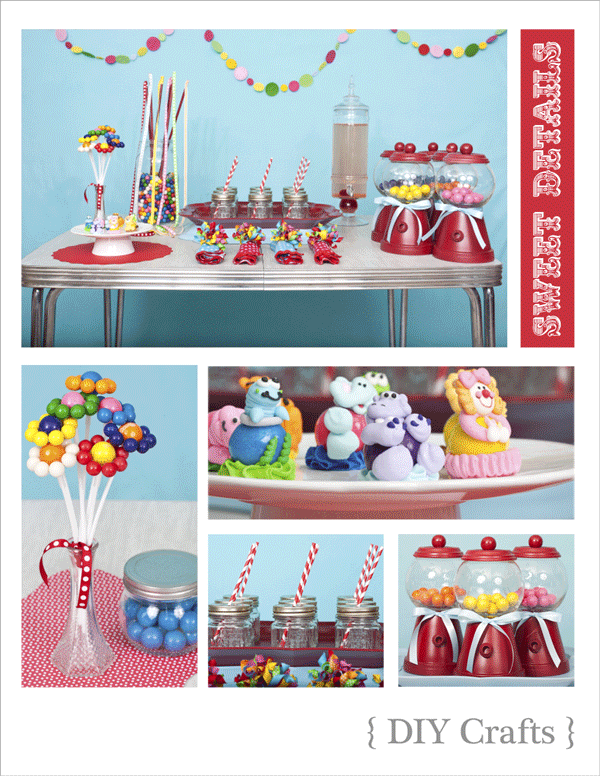 FELT CIRCLE GARLAND: Kara made these by cutting various sizes and colors of felt circles and gluing them to fishing line.
DIY "GUMBALL MACHINES": Kara made these using terra cotta pots and small glass jars. She says she hopes to post a tutorial on the craft project soon.
GUMBALL FLOWERS:
She made these using gumballs in two sizes and balloon sticks based on the tutorial
here
.
ANIMAL GUMBALLS:
These came from a local shop near Kara called
Peppermint Place,
but lucky us -- they can be ordered online, too.
Be sure to visit
Kara's Party Ideas
for more details on this and other fabulous parties. You are sure to be inspired!!