Last year about this time my girls and I hosted a sweet Valentine's party for their friends. With both of my daughter's names beginning with the letter "M," I decided on a "M & M Sweet Shoppe" theme. A week or so before the party, we hand delivered some lollipop style invitations, with "M & M Sweet Shoppe" on one side and the invitation information on the other. We attached them to lollipop sticks, wrapped them up in cellophane and added a little ribbon to dress them up a bit. It was a fun way to let their guests know that something special was in store.
By using almost all store-bought baked goods and snacks and sprucing them up a bit, the party was relatively simple to put together and easy on the budget, too. I had set a budget of $100, and came pretty close to that figure in the end even with the crafting supplies added in.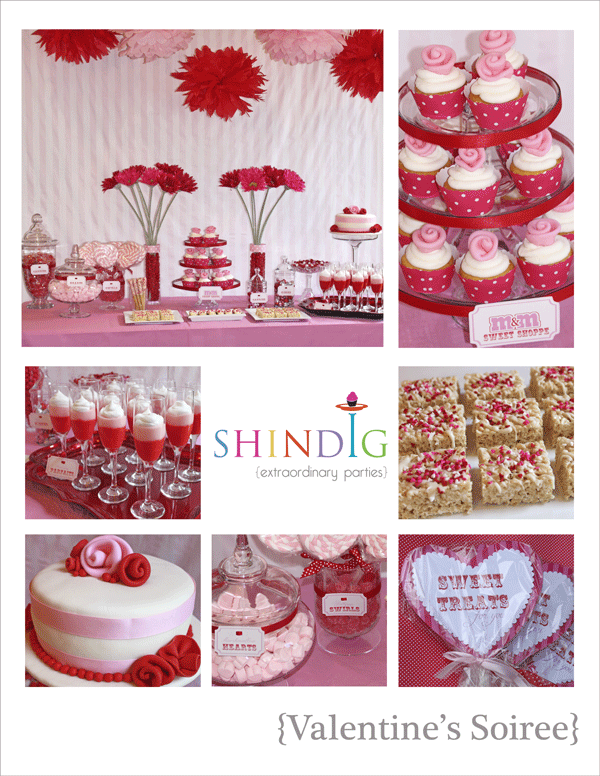 I made the cupcakes and cake myself, which saved some money as well. It was my first experience using marshmallow fondant, and I have to say, it wasn't all that difficult, even for a newbie, and it tasted great! I've heard horror stories about the "cardboard" taste of fondant, but with
this recipe
, marshmallow fondant makes a pretty tasty treat. I made my own rice crispy treats, too, but added a little melted white candy coating and sprinkles to the tops for color.
I used Oreo cookie sticks and Pepperidge Farm Milano cookies and covered those with white chocolate candy coating and sprinkles as well. The pudding parfaits were a combination of store bought pink (cotton candy flavor) pudding and some vanilla pudding tinted red that I made at home. I added a little whip cream on top and put the parfaits in champagne glasses which, of course, the girls loved.
Using various red and pink candies in jars and adding some sweet labels really dressed up the dessert table, as did the pink and red poms that I made from tissue paper to hang over the table. A few M&M's, some Hershey's kisses and some marshmallow twist lollipops I bought at Walmart rounded out the treats.
After a few snacks, the girls were ready to begin crafting. I created a simple project for them and had all of the supplies ready and cut out before the girls arrived that day. Each child had a small terra cotta pot filled with green tissue paper, and they were to make their own Valentine's rose bouquet to take home with them. I used white, pink, hot pink and red felt and cut out circles for the roses. Then on each circle I drew a spiral from the outside edge, circling around until I reached the center of the circle. Then I cut each spiral out.
It was a little time consuming since each girl needed 6 or 7 roses to finish the vases, but it was a simple task that I worked on while watching TV one night. And I have to say, if you're going to have crafts with kids, it's always worth the extra effort to have the craft supplies ready to go at party time. Then it's just a matter of a few easy directions and a few steps for the kids, and they've created their own little masterpiece.
It was such a wonderful party and so nice to have a little "girl-time" with my kids and their friends. I hope it inspires you to throw a little girly soiree of your own!
Linked to:
Craftomanic
,
Skip to My Lou
,
Making the World Cuter
,
Blue Cricket Design
,
Tip Junkie
,
Life as Lori
,
My Delicious Ambiguity
,
House of Hepworths
,
Craft Edition
,
Today's Creative Blog
,
Crafts Keep Me Sane
,
Under the Table and Dreaming
,
Funky Junk Interiors
,
Tater Tots and Jello
,
The Girl Creative
,
Sumo's Sweet Stuff