It's about that time...... are your Easter baskets ready? I wish I could say mine are, but I been feverishly busy working on a really special birthday party for my oldest daughter. I can't wait to reveal the photos after I'm done. It's been a true labor of love!
With just a few more days until Easter, I'm sure we are all trying to find some great ways to decorate our Easter tables with unique and fun table settings. Here are a few ideas that I found from around the web:
in footed glass bowls with some speckled eggs as centerpieces.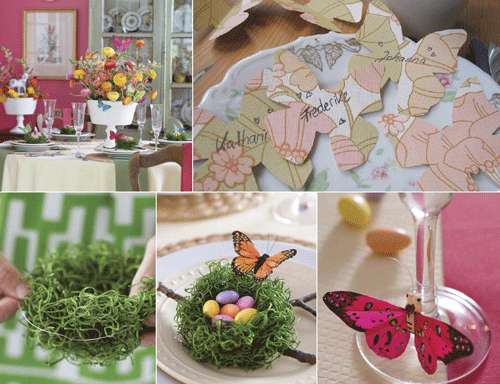 Using butterflies as table decorations signifies Spring right away. These beautiful ideas from
Southern Living
can be executed in minutes after a quick trip to the craft store.
The Easter tree makes such a statement for very little time or money.
Martha Stewart
shows a beautiful Easter table using large baskets of tulips as
centerpieces and some colorful compotes of jelly beans. The repetition of coral from the tulips to the tablecloth, jelly beans and even the drinks makes an eye-catching display.
Just a few simple blossoms in an egg cup sitting on your plates make a wonderfully easy place setting from
Celebrations.com
using a little moss and a place card flag.
And again, simple is good! I love this place card Easter egg idea from
I hope you all have a wonderful day.... and now to work on those Easter baskets!