Hi everyone! I hope you're having a great week and making some fun plans for the weekend. Around here everyone is getting geared up for the first Auburn tailgate and game of the season.... only one more week! That's an exciting event around these hallowed football grounds.
I've been working really hard lately on a couple of new designs that I'm thrilled to share. Kristyn over at
Lil' Luna
where I'm a contributor, has a sweet little boy named Gavin who will be turning 2 next month. Kristyn wanted a fun, colorful monster party theme and I couldn't wait to get started on the design. With a monster theme, the sky is the limit and is so much fun for anyone creative. Everywhere I look these days it seems I find a way to turn an every day item into a monster!
I thought I'd give you a quick peek at the
M
O
N
S
T
E
R
B
A
S
H
printables set. It is my favorite design to date, and I have to say when I printed these cuties out, I smiled from ear to ear. The colors are so much fun and the monsters are pretty adorable, too (if I do say so myself). After seeing the print outs, my daughter who's been by my side all during the design process said, "Mom, they came to life!"
I felt the same way. They seem like they should be walking around the house stealing snacks from the cookie jar!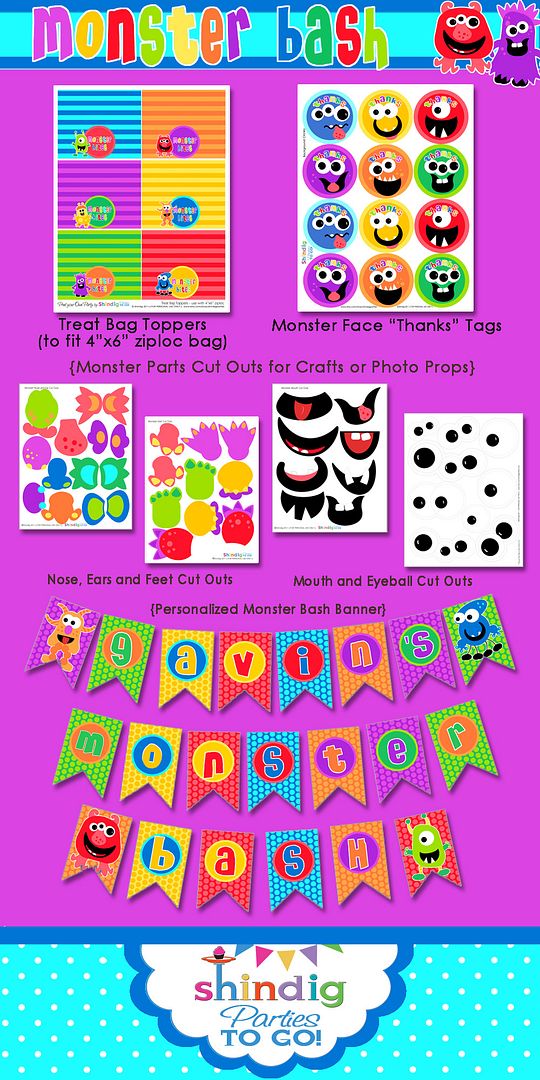 I hope you love them, too! The
M
O
N
S
T
E
R
P
A

R
T
Y
printable set is in my Etsy shop now if you want to find out more about what is included. I think they would be fun for a Halloween party, too.
I simply CAN NOT WAIT until little Gavin's party. With
Kristyn's
talent and fun crafting ideas, I'm sure it's going to be a show stopper!