Wow, wow, wow, right? That's what I said when I first got the photos from my customer's
GO KART RACING
party for her son, Christian, using Shindig Parties'
Go Kart Racing Printables
. Charlene is an amazingly talented and creative mom who goes "All Out" with her son's parties each year. And this one, folks, is a show-stopper! From the spunky colors to the black and white check, this party is eye-catching and says "FUN" right from the start.
In telling us about her party inspiration, Charlene says, "Christian wanted to have a go-cart party after seeing how to build a go-cart in the Dangerous Book for Boys. But when my husband decided it was going to be a lot of work and the kids may lose interest, I convinced Christian that going go-carting would be just as much fun!
So we booked a party at our local go-carting place Paradise Park. They had kiddie go-carts that are battery operated that the kids can drive themselves but don't go too fast. And they have real go-carts, but the parents had to drive since they were all under the height restriction!
I started the party in our home (because I was not allowed to bring in any food myself). So at home it was for snacks, cake and ice cream and a few activities, door hanger craft and punching balloons, opening presents and then off to go-carting and pizza in the party room. The party finished up with some tokens for the arcade! The kids loved the t-shirts I made for them, too. They had so much fun racing go-carts, but I think the dads even had a little more fun!"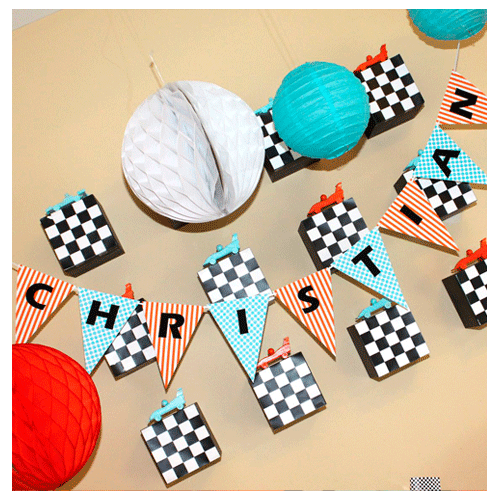 Don't you just LOVE Charlene's backdrop? Some wall cubes, checkerboard paper and those adorable painted "go karts" - how ingenious!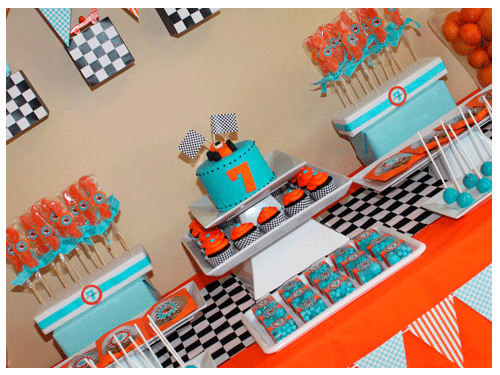 Charlene made orange candy skewers with orange slices and orange rings from Kroger (our grocery store). She wrapped them in bags from the bakery store and added a sticker from the
Go Kart Party Printables
. They were placed in a block of floral foam that was wrapped in white wrapping paper and trimmed with ribbon.
Charlene says, "I have used those blocks for so many parties and change out the ribbon and sticker! I always place in the same holes so they stay neat. They were also set up on risers from two of my CD boxes from Ikea and just wrapped again in blue wrapping paper."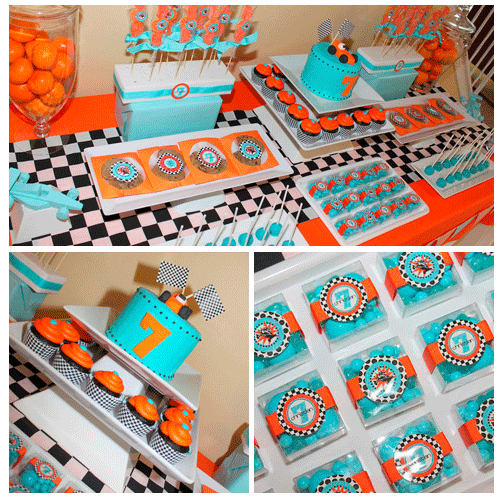 Charlene purchased the cake and cupcakes from
Rebecca's Cakes and Confections
. She used a blue candy called Spots from the Dollar Tree. She said they were a little like Dots candy but larger. She also cut the candy into strips and placed them in the glass bowls from Dollar Tree since they color coordinated with her party colors.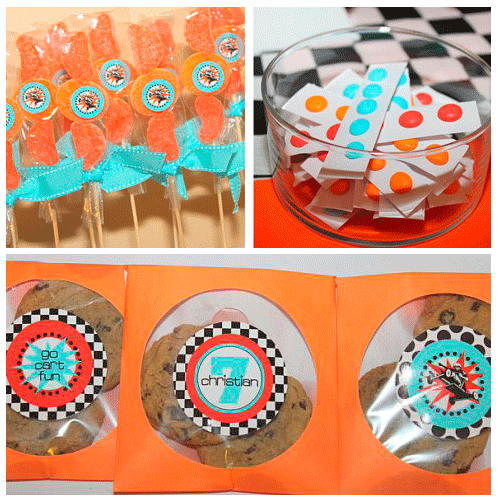 A friend made the chocolate chip cookies for Christian's party and Charlene placed them inside of orange CD sleeves and added a printable sticker from the
GO KART COLLECTION
. I love this idea!!
Orange suckers from Party City inside of bowls from the Dollar Tree served as centerpieces for the party table. Charlene stuck the suckers in a styrofoam disc she found at the Dollar Tree as well and added blue candy to cover.
Just take a look at that smile! A job well-done, mom!
Charlene made homemade Oreo pops and dipped them in blue candy coating.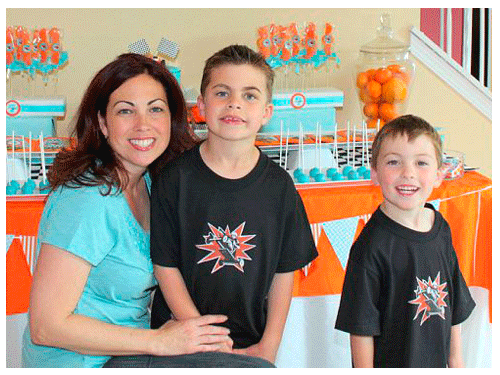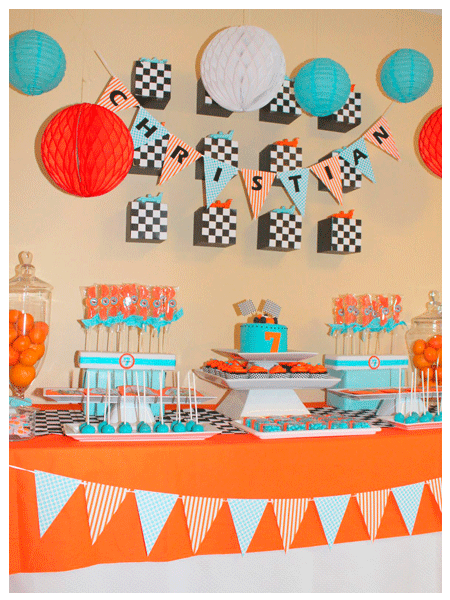 Thanks so much for sharing your fantastic party with us, Charlene!
Stay tuned for tomorrow's Part 2 of Charlene's fabulous GO KART Party.
I'll be sharing more of her fun ideas for party crafts, food tables, and those fabulous t-shirts.
______________________________________
Blue Candy: Party City (sixlets, bubblegum balls)
Clear Candy boxes: Dollar Tree
Orange wrapped suckers: Party City
Glass bowl and styrofoam disk for suckers: Dollar tree
Wood go-carts: Michaels (customer spray-painted)
Orange slice candy: Kroger
Oreo truffle pops: homemade
Homemade Oreo truffle pops! (dipped in the blue candy melts)
Turquoise blue paper lanterns – Pottery Barn