Hi there! I am Kate from
And Everything Sweet,
and I'm so excited to be doing another guest post for Amanda's amazing blog! Love her and all her designs so I was truly humbled when she asked me if I'd like to do a 4th of July dessert to feature. OF COURSE!
I had no idea what I was going to do until one day when I was out and about shopping at my favorite store Michaels (I need a bumper sticker that says "I'd rather be at Michaels". Do they make those??). Anyway, I came across this new Wilton mold (Dessert Dome Candy Mold) while my 2 year old daughter Olivia was trying to open a bag of candy melts with her teeth. I had no idea what I'd use it for (and didn't have much time to brainstorm because Olivia was literally trying to bite her way through 4 bags of candy melts), but I bought it anyway…(along with the 4 bags of candy melts that had been slobbered all over by someone's unruly child).
Later that night after my babies were in bed I started playing around with ideas and that's where the Tie Dye Fourth of July Cupcake was born!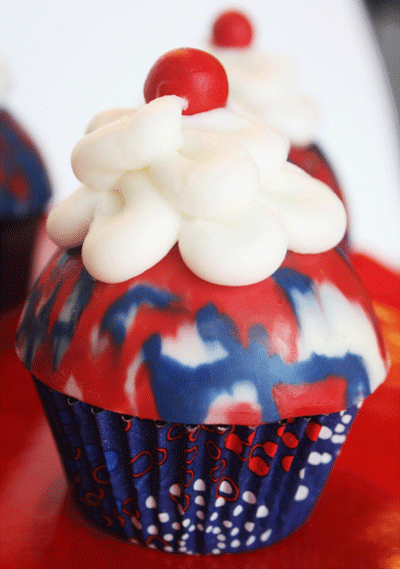 It might look complicated, but its not! All you need is the mold (not the gross green kind…I mean the Wilton Candy Dome Mold), candy melts (blue, red and white), some cupcakes, icing and fondant (if you want a cherry on top).
First step is to melt the candy melts, put them in a baggie (separate baggie for each color) and snip a corner to squeeze the candy out. Start off with red, then go to blue, then to white…squeezing the candy out while doing a zig zag, swirly patterns. Play around…different patterns produce different designs. You can't mess it up. Its tie dye…its supposed to look crazy and messy!
Do it all over again to build your chocolate so that its thick enough…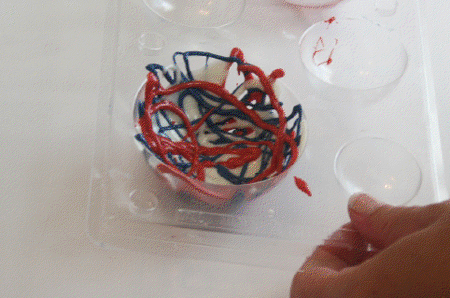 Warning:
If there are any small children around make sure you don't take your eye off of them for a second. It's a well known fact around my house that small children LOVE to dip their fingers in chocolate and they WILL take advantage if no one is looking!!!!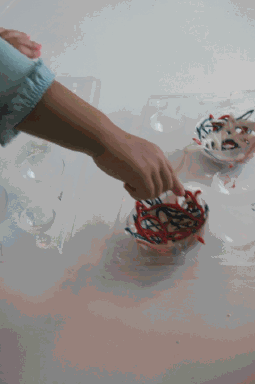 Once you've finished pouring your chocolate (and removed all small fingers from your chocolate ) its time to attach the top of the mold on and refrigerate to allow the candy melts to harden.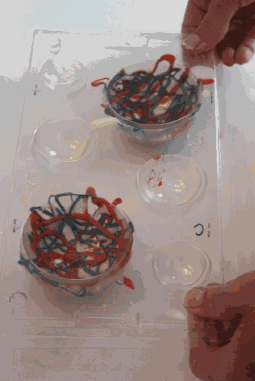 While I waited for the chocolate to harden I iced a few cupcakes. It doesn't matter what they look like because you're going to cover them up with the chocolate dome anyway. I just added the frosting for extra calories and deliciousness.
Once the chocolate is set, CAREFULLY remove the candy dome from the mold (this is the only hard part of the entire process). I had a lot break, but after some practice (and trying my hardest to be carefully careful), I got better and had less breakage.
You end up with something like this…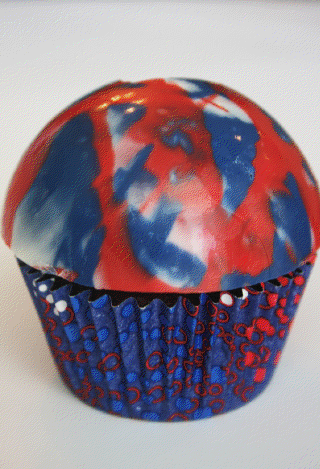 Embellish with some frosting and top off w/ a fondant cherry and you're done.
TIE DYE FOURTH OF JULY Cupcakes!
I just love these cupcakes - so unique but just about anyone can do it. And I can already tell these will be a hit with the kiddos because my five year on seeing the photos said, "Wow! That's a cupcake! I want one of those!"
Kate has such fabulous ideas. Just look at these amazingly creative golf ball pops she made recently.
And what about her latest cake? Makes me want to have a pool party. The girl is the fondant queen!