I've got a
FREEBIE
to share with all of you today! With Father's Day right around the corner, it's about time to get some surprises ready for the men that we all adore. And with this little Tie-riffic free set of printables, I hope you all will be inspired to create a fun Father's Day display for your own husband or father.
The set includes a cute tie-shaped "Happy Father's Day" banner, some great tie-shaped centerpiece signs, and cupcake topper sized ties, too. And best of all.... I made a page for DADs, for GRANDDADs and another page for STEPDADs just to cover all scenarios. I hope you all love them!
The centerpieces are super easy to make. I just attached each of them to a wooden skewer (found in the grocery store) and stuck the skewers in a piece of styrofoam inside of this little bucket. Then I topped it off with some brown shreds, added a twine bow and voila! Quick and simple centerpiece!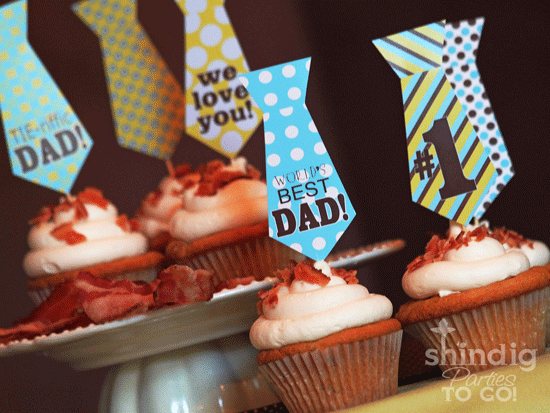 Make some super quick cupcake toppers or sandwich toppers by hot gluing the ties to a toothpick and sticking it in your food. And yes, my friends, that's BACON if you were wondering.... Maple Bacon Cupcakes to be exact. We're
ARE
talking men here. If you're gonna make a cupcake for a man, you better include some bacon! I'll post the recipe and tutorial soon.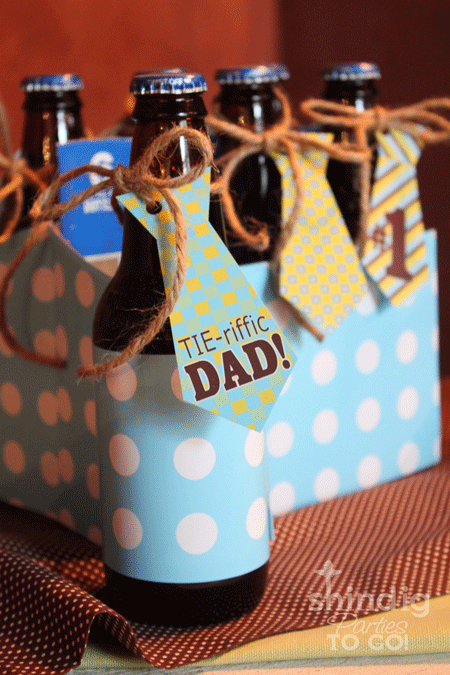 And you can't eat bacon cupcakes without a swig of something, right? Coke, beer, root beer.... whatever your guy prefers, just wrap the bottles in the decorative paper, wrap the box in the decorative paper, and add a twine bow with one of my Father's Day tags. These tags are such a versatile size and could also be used to top wrapped gifts.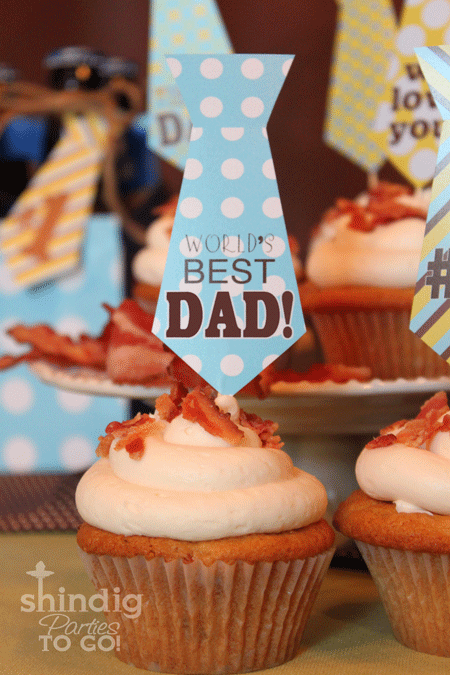 Isn't that bacon hilarious!
So if you've got a TIE-riffic Dad, step dad or even granddad